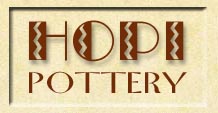 lthough the three Hopi mesas have nine villages, First Mesa and the village of Hano have dominated Hopi pottery since the 1890's. First Mesa potters use Hopi's unique clay to make great quantities of some of the finest of all pueblo pottery. Originally, Hopi ancestors traded yelloware from the 700's on, but under pressure from Spanish, Apache, and Navajo, the wandering and trading diminished, and pottery production had almost disappeared by 1800.
lthough some books date the beginnings of contemporary Hopi pottery design to the fateful meeting of ethnologist J. Walter Fewkes and Nampeyo in 1896, a trader by the name of Thomas Keam had potters reproducing archaic pottery in 1880. Whatever the real story entails, the thirty-six year old Nampeyo translated the ancient Sikyatki designs into innovative and beautiful symbols of her own, thereby launching herself on a career that brought her celebrity until her death at eighty-two.


eyond the many fine potters from the Nampeyo Family (Annie, Nellie, Fannie, and from them Rachel Namingha, Dextra Nampeyo, and Priscilla Namingha), there are a number of prominent Hopi families with a fine legacy. The family of Grace Chapella, which includes Alma Tahbo, Mark Tahbo, and Ethel Youvella. Another such family are the Navasie's which include Rainell Naha, Lana David, Dawn Navasie, and the innovative Joy Navasie (Frog Woman) and Helen Naha (Feather Woman). Men have also made their contributions to the beauty and excitement of Hopi pottery. Al Qoyawaya, Thomas Polacca, Gary Polacca Nampeyo, Wallace Youvella, and Lawrence Namoki, are but a few of the men who have carved a distinctive niche.
nd with each and every artist who emerges anew generation after generation, the spirit touched creations communicate the miraculous, clay is wet, shaped, and fired. And from the heart and hands of the artist, clay becomes pottery and pottery becomes art.
Item# 0002P James Nampeyo, Hopi.

Having been taught the skill from his grandmother, Fannie Polacca Nampeyo, James has become well known in his own right. As you can see all his designs are old traditional Nampeyo geometric patterns.

Size: 6-3/4" high by 10-1/2" diameter (Opening has rolled lip neck).
Price: $3750. Mint Condition.
How to Order
Item# 0012P Dextra Quotskuyva Nampeyo, Hopi.

Barton Wright believes that if "there is a single potter within the Nampeyo family heritage whose artistic talent can be considered as outstanding as that of Nampeyo, it is Dextra Quotskuyva". This pot has stylized variation in typical Nampeyo Family pattern.

Size: 3-3/4" high by 4" diameter (extended rolled lip).
Price: SOLD Mint Condition.
How to Order